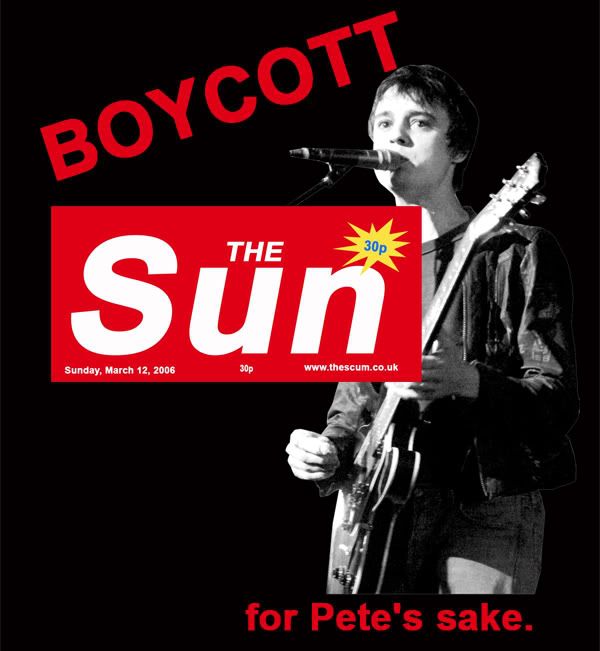 Fans of the former Libertines frontman, Peter Doherty, have created a "destroy the sun" campaign using myspace. The Sun has been responsible for publishing many stories about Peter which have disgusted fans, however, with Peter doing stupid things like spraying blood at camera men, it's no wonder they can easily portray him in a negative light.
Let's be realistic...The stories the tabloids write about Peter are not very far from the truth. Sure, they say things like, "Moss-Dump the junky", which is very cruel, but that is what tabloids do. You're not going to stop them. If we want Pete to start being portrayed in a positive light, then maybe he should put down the drugs and pick up the guitar.
As one member of the official Libertines forum asked, "why don't we start a Save Pete From Himself campaign?". Let's face it. Peter could be ten times better if he focused on music and poetry instead of fucking around with needles.
The mission statement of the Destroy The Sun Campaign is as follows: " Destroy the sun is a campaign to stop the villification of Pete Doherty by Britain's renowned tabloid shite-rag, The Sun. We ultimately aim to prevent the allegations, exaggerations and slanderous comments made against a troubled musical genius. "
If you feel like joining this futile, yet highly amusing campaign, click HERE!!!